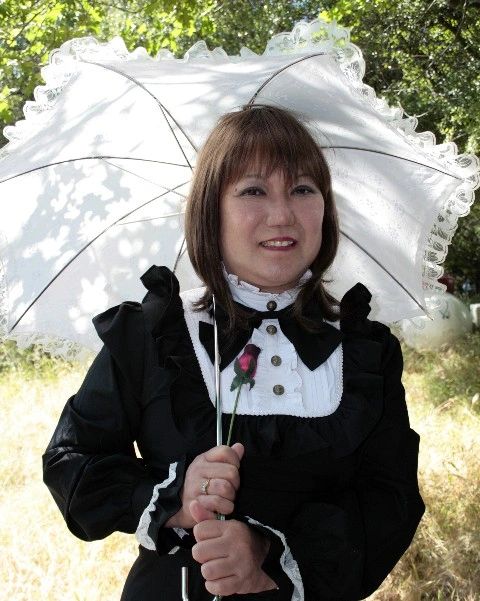 Carmen Taira – "Talking Sweet Potato"
Artist/Photographer


I was born in Okinawa Ryukyu Islands when it was under the US occupation. A product of intermarriage of Visayan/Filipino father and a Japanese mother. Called Half who can eat any type of food, see situations from two different sides. Totally multicultural and multilingual, having twice the capacity to find things amusing and more than three times as bright as many of my contemporaries.

I learned to walk and started my journey: I attended school and grew up in the Philippines and spent my summer vacations in Okinawa. I left the Philippines and back to my family in Okinawa in 1982, the saddest time of my life leaving behind the culture I was brought up with. My Philippine social life was an Artist, The DAWN, Alpha Phi Omega, Kabataang Barangay, life was wonderful ! )

Along the way I traveled, got married, had a child and came back to Okinawa in 1990, divorced with my three year old daughter. Life is a struggle when you are a single mom. I was working full time in the Exchange when I was trained as a Tour Guide in 1994 when the USMC was looking for volunteers to assist the WWII veterans in the 50th commemoration for June 1995. It was 7 months of intensive training, reading war books, listening to lectures and adventures in spelunking. I was certified as a tour guide the July of 1995 by US Forces Japan. I received a Certificate of Appreciation from The Okinawa Plus 50 on August of 1995. I owe this knowledge to Lt. Col. Lord and to A Marine Officer who inspired, mentored, and pushed me above my limits.

On the 28th of February 2000, I was certified as a G8-Summit Tour Guide after attending the lectures at Meio University for two months.
In 2005 my long term goal interrupted and started walking different paths where life will lead me. On October 2006 I came back to the US and for two years worked for an Aerospace Company. I lost my job on May 2009 and finally I am able to fulfill my dreams. Life is the Internet, Organic Garden, Playing musical instruments ( Guitar, Keyboard, Samisen), Arts ( Pencil Drawing/Sketching ) Crafts (Origami, Crochet, and whatever my vision can project )
January 15, 2011 Annabel Shiori became the new focus and center of my life. With the encouragement from her mother I am back to my drawing board.


Education:
University of Maryland (PACIFIC) Undergraduate Computer studies 1997 -
Central Texas College Undergraduate Computer studies 1998 -
University of the East (Manila) Undergraduate College of Arts and Sciences 1976 - 1978
University of Santo Tomas (Manila) Undergraduate College of Fine Arts 1974-1975
Philippine Women's University Undergraduate College of Fine Arts 1978-1979
St. Jude College (Manila) Associate in Interior Designing 1979
University of the East High School (Manila) 1970 - 1974

Awards:
STAR Award 2012 - Friends of Groveland Library, Groveland, California
Deputy Mayor of Groveland California 2011 representing the Friends of Groveland Library

Plaque of Appreciation 2002 - Organized a book drive, collected 500 plus books in one week donated to children of Davao City, Philippines. Japan/ Philippines Volunteers Association

Certificate of Appreciation 2000 - G8 Summit Tour-Guide from Mayor of Nago City

Certificate of Appreciation 2000 – Asian American Month AAFES Okinawa

Certificate of Appreciation 1997 – Hispanic History Month

Certificate of Appreciation 1997 – Asian American Month

3rd Place

1996 Photography contest Kadena AB

Certificate of Appreciation 1996 – Asian American Month

Okinawa

Photography Club Exhibit Certificate 1995

Okinawa Photography Club 10th place Photo Contest

The Okinawa plus 50 Peace and Friendship Volunteer Association 1995

Certificate of Commendation United States Forces Japan 1995

American Red Cross Misawa 1989

Honorable Mention Winter Holiday Poster, Misawa 1989

Honorable Mention Arts and Crafts, Misawa 1989

Military Airlift Command Craftsman Contest, First Place 1988

AFSA Volunteer Mc Chord 1988

Honorable Mention Photography Contest Mc Chord1998

3rd Place

Photography Contest Mc Chord 1988

3rd Place

Craftsman contest Mc Chord 1988

Military Airlift Command Stringer of the Quarter 1988

Stringer of the Quarter Mc Chord 1986

First Place

Photography Contest McChord 1987

Certificate of Recognition Mc Chord 1986

Military Airlift Command Stringer of the Quarter 1986

Washington

State

Special Olympics 1985 & 1986
Languages: English, Tagalog, Visayan, Japanese, and Basic Spanish
Hobbies and Interest: Arts and Crafts, Photography, Reading, Charcoal drawing, Playing the guitar, Keyboard and Samisen
Membership:
Yosemite HWY 120 Chamber of Commerce - Present Board Secretary 2018
Friends of Groveland Library 2010 ~ 2017
Toastmasters International, ACB 2000 - present
Alpha Phi Omega International Fraternity/Sorority (Philippines) 1977 - present
The Dawn, alumni staff of school newspaper. University of the East, Philippines
Language Volunteer, International House Nago City Okinawa 1999 –present
AAFES Disability Program – Volunteer Manager 1996 -1997
AAFES Asian American Pacific Islander - Member, Volunteer Manager 1995 - 1998

Talking Sweet Potato
WebBearer: carmentaira@gmail.com
Tel. 209-962-4848 Message: 209-589-0452

Copyright © 1995 Formerly [Okinawa by Land Okinawa by Sea]. All rights reserved.